Together We Are ASUU
---
As an enrolled student, you are automatically a member of the Associated Students of the University of Utah. ASUU is led and represented by students elected by you. We strive to provide much-needed resources and services to students, host events and programs, and advocate for students in our interactions with University administrators and We work to be a powerful, representative, transparent, and inclusive voice for all students who call the University of Utah home.
Emergency Student Loan
---
The ASUU Student Resources Board offers small (up to $500) ninety-day emergency loans to students in need. The loan is contingent on meeting the eligibility requirements of university lending policies. Each applicant will be reviewed by a committee and will be contacted as soon as possible. Upon submission of the form, the application will be reviewed by an ASUU student leader committee, SLI staff, Income Accounting staff, and Financial Aid staff to verify eligibility. Before ASUU student-leader review, applications will be de-identified to protect the privacy of applicants. No names, addresses, or uIDs will be associated with the application during ASUU student-leader review. Depending on the application, it may take up to two weeks to complete the verification process, and in most cases, much sooner. Once an application is submitted, please respond to emails and communication requesting an intake meeting from SLI staff. Please submit completed applications to info@asuu.utah.edu. 
Find Us Virtually!
---
ASUU will be operating primarily remotely as of 11/6/2020. However, we are still here for U! We have many options for connecting with you virtually, or in person if your needs cannot be met in a virtual way!
Representing All Students
---
The ASUU Student Government, much like the United States federal government, consists of an executive branch, a legislative branch, and a judicial branch. These branches work together to accomplish the varied functions of ASUU to serve the student body as effectively as possible
Creating a Culture of Advocacy
---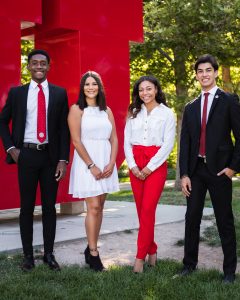 View the End of Year Report Here
Dear University of Utah Student Body,
The 2020-2021 ASUU administration is excited to be working with and for you this year, in the pursuit of breaking barriers that impede student success. We believe the biggest barrier to student success is the lack of access. We strive to implement solutions to break down barriers to safety, connectivity, and affordability to better the student experience.
Our goals are to expand access in these three issue areas, among others, to create a successful student experience. Through connectivity we hope to increase transportation barriers and connect students to campus through direct communication about events, opportunities, and resources. In the realm of safety, we aim to place a large focus on looking at disenfranchised areas of campus and focusing our efforts on students generally being left out of the conversation. As for affordability, we look to creative solutions for reallocation of funds internally in ASUU and out to stop the increase of student fees. We also plan to promote education about scholarships and money management.
Now more than ever, with this year marking a historical turn of events, we want to bring forth nothing short of our best efforts to aid the student body. This year will require an insurmountable amount of giving, dedication, and love. But above all else, we want to do it together. We are all Associated Students of the University of Utah, and we want to make this year as reflective of that as possible.
We feel extremely fortunate and lucky to function as leading members of the student body for the 2020-2021 academic year and want to express that gratitude by paying it forward to all those who make up our campus community. We look to you when attempting to be resilient, strong, and adaptable. No matter the situation, near or far, thank you for making the University of Utah our home.
With love,
The 2020-2021 ASUU Presidency
(TEAMM: Together Everyone Accesses Much More aka. Team Ephraim Ayana Michelle Mihali)
Get Involved
There are a plethora of reasons to get involved with the ASUU Student Government. You can gain real-world managerial experience from leading a board, learn how to organize a major speaking event, and get to know University administrators—and the list goes on and on! In addition to gaining transferable professional skills, you'll make lifelong friendships with the other ASUU student leaders, increase your prospects for getting a job or getting into graduate school, and elevate your University of Utah experience!
New Student Organization Information Session

New Student Organization Information Session Interested in starting a new student organization at the U?   August 20-September 10 is the first […]

New Student Organization Information Session

New Student Organization Information Session Interested in starting a new student organization at the U?   August 20-September 10 is the first […]

Welcome U

Welcome U Welcome U is the University of Utah's largest event for all of the student programs and partners. This is the most awaited time of the […]