Recycle Rice Eccles 2023-2024
The mission of Recycle Rice-Eccles is to minimize waste at fan tailgates by recycling aluminum, glass, and plastic at frequented tailgating lots. Student volunteers, dedicated fans, and those passionate about waste mitigation dedicate their time and effort to collecting and sorting recyclable materials at every home game for the University of Utah. Fans can help this effort by bringing a separate bag, bin, or box for recyclables, and attempting to keep food waste away from these recyclable materials.
Recycle Rice Eccles will take place at all Home football games in Fall 2023.
Want to be part of this initiative? Sign up at the link below:
2023-2024 Schedule

August 31 (Thu)
vs Florida

September 16 (Sat)
vs Weber State

September 23 (Sat)
vs UCLA

October 14 (Sat)
vs California

October 28 (Sat)
vs Oregon

November 4 (Sat)
vs Arizona State

November 25 (Sat)
vs Colorado
Homecoming Dance 2023

Utah Museum of Fine Arts
Sept. 22nd 7:00pm - 10:00pm
Free with Ucard, $5 cash for students with a non U of U student ID card
Redfest 2023
October 5, 2023
Artist announcement coming soon!
Follow us on Instagram @asuutah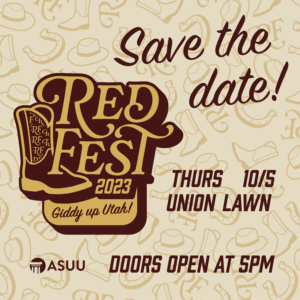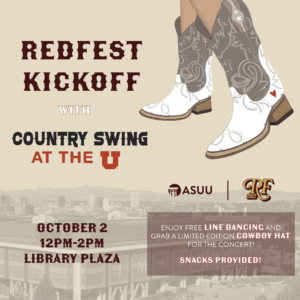 The Grand Kerfuffle 2024
April 18, 2024
Check back soon for more information and event details!