2023 ASUU Legislative Senate Candidates
The Legislative Branch in ASUU is made up of two bodies - the Assembly and the Senate. Students can run in the annual ASUU elections to represent their college in either the Assembly or Senate. Below, you will find all candidates running to represent their colleges in the Senate. Click on each of the candidate photos to read their personal statement.
Candidates for Legislative Senate
Jack Israelsen
Architecture + Planning
Jack Israelsen
Architecture + Planning
I am proud to be able to represent the College of Architecture and Planning. I want to advocate for fellow students and ensure that their concerns are discussed and responded to within Student Government, and provide a platform for those who have not had one before. I as well plan to advocate for skateboarders on campus, hoping to help a growing culture be recognized and accounted for within both ASUU and Administration. I am excited for the future of our college and the University as a whole, and am aiming to improve the student experience in any way I can.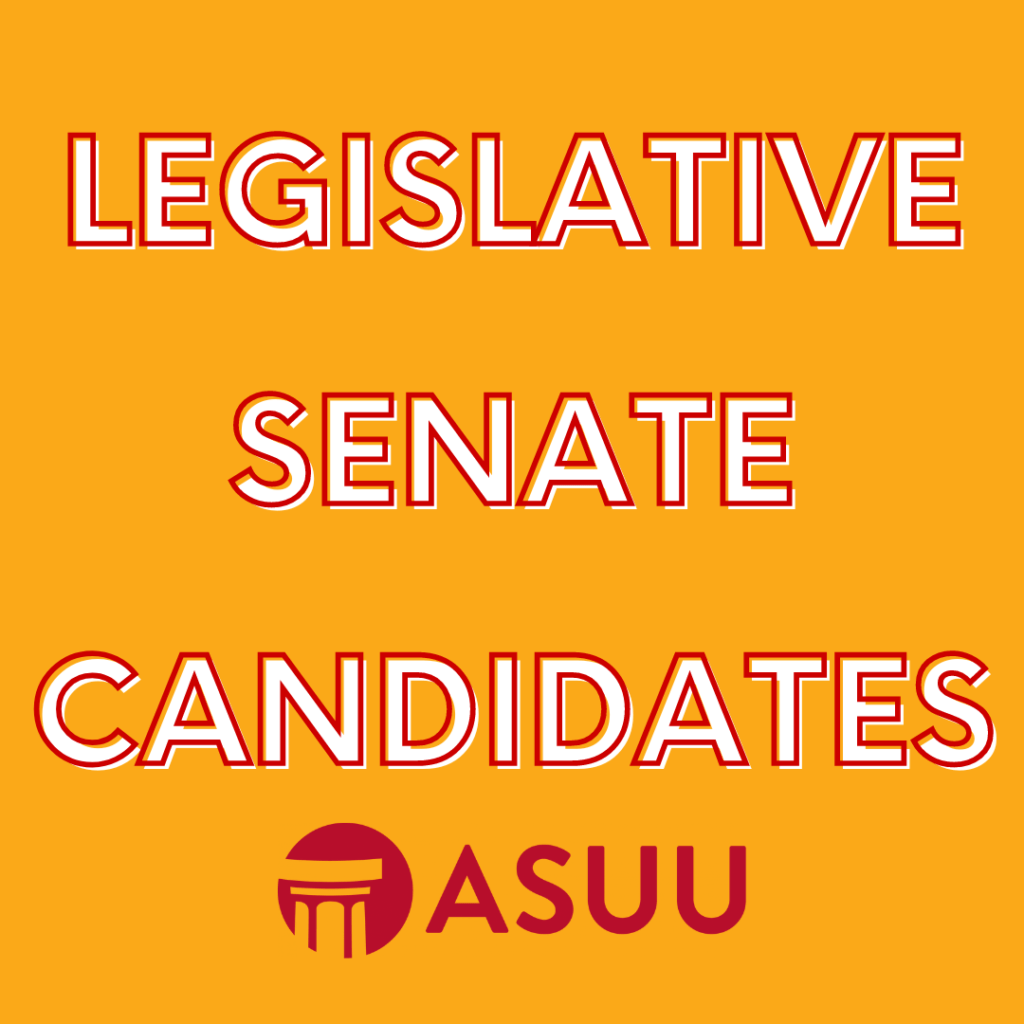 Jaxon Driver
Business
Austin Neff
Engineering
Austin Neff
Engineering
"Hello, my name's Austin Neff, I'm a MechE major, and I'm running for Senator for the College of Engineering! My platform focuses on more opportunities for students to explore their interests and passions through expanded and more accessible opportunities such as internships, Uexplore, and clubs. I would also like to see more affordable housing located on or near campus. In office, I promise to demonstrate values of teamwork, transparency, and active listening. As a dedicated and accessible representative, I would be honored to have your support. Contact me at u1231004@umail.utah.edu for any questions, comments or concerns. Thank you!"
Lillian Ault
Humanities
Lillian Ault
Humanities
Being senator for College of Humanities allows me to better interact with students and faculty in my respective study. I plan to represent the concerns and interests of my college to the best of my abilities by giving my full focus to issues and happenings with students. I am excited at the opportunity to demonstrate my time, energy, and care into supporting those in the College of Humanities as well as engaging with other college representatives in the senate. Further, I am excited at the prospect of having such an influential and meaningful role within my college and university body.
Hannah Truax
Social & Behavioral Science
Hannah Truax
Social & Behavioral Science
I would be honored to represent the CSBS as a senator as it would give me the opportunity to express my voice, and the voices of those within the college. The CSBS is unique as it has a wonderful variety of majors that have extremely important impacts within our society. I plan to prioritize issues revolving around social justice, as these are necessary to promote student belonging here at the University of Utah. I am a third-year Political Science student, and I plan to work in government post-graduation to further use my voice to promote actionable change
Jack Fuetterer
Business
Anna Roelofs
Fine Arts
Anna Roelofs
Fine Arts
Hello! My name is Anna Roelofs. I'm a Vocal Performance major and Theatre minor here in the College of Fine Arts. My goal is to create a stronger presence of our college within greater university affairs. Whether it's allocating more funds for the arts or regularly surveying students and faculty for opinions on university legislation that affects our departments, I want to use my voice to advocate for the College of Fine Arts and bring us to the center of university conversation. A voice for the arts, vote Anna Roelofs for College of Fine Arts Senator.
Md Golam Dastgir
Engineering
Md Golam Dastgir
Engineering
Being a Ph.D. student has taught me to show a "can-do" attitude for everything on my plate. No matter how tough, or how arduous, or how tiring the work is, just a smile and "will be done" is what I believe in. The College of Engineering I represent is my pride, and I hope to serve its needs keeping in mind the benefit of the students of the college at all times. My experiences in previous and current leadership roles in different organizations will always be the foundations of my core values which I adhere to with high honors.
Aynaelyssya Thomas
Humanities
Aynaelyssya Thomas
Humanities
The College of Humanities is a space that connects you with wonderful people that will help you further your goals and career. It would be an honor to be able to represent the college as a Senator to bring attention to academic matters. I want to continue to help bridge the gap between administration and students. I have served the last year and a half as an Assembly Representative where I worked to prioritize students' needs and voices. Not only do I wish to see positive change in the College of Humanities, but throughout the U as a whole.
Walter Bishop
Social & Behavioral Science
Walter Bishop
Social & Behavioral Science
Running for CSBS senator to me means that I will have the privilege of hearing from you the students. Your opinions and stances about the important issues that create policy for the university. I look at this opportunity as a great responsibility to represent the student body view. As a POLS major, CSBS means a future of knowledge and opportunity to be achieved. I plan to be open to other viewpoints, revisit issues, and revisit them again. I want you the students to know that I care about what you think and say.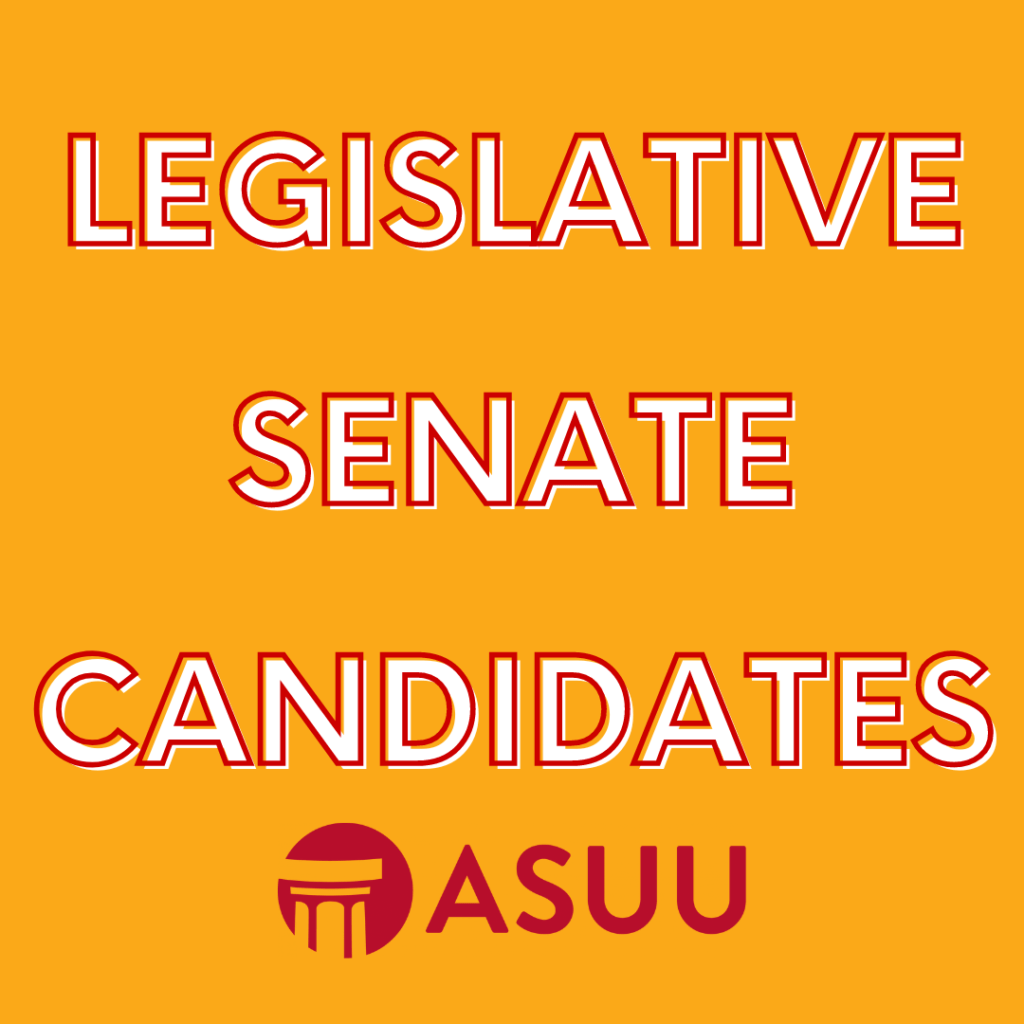 Abigail Taylor
Education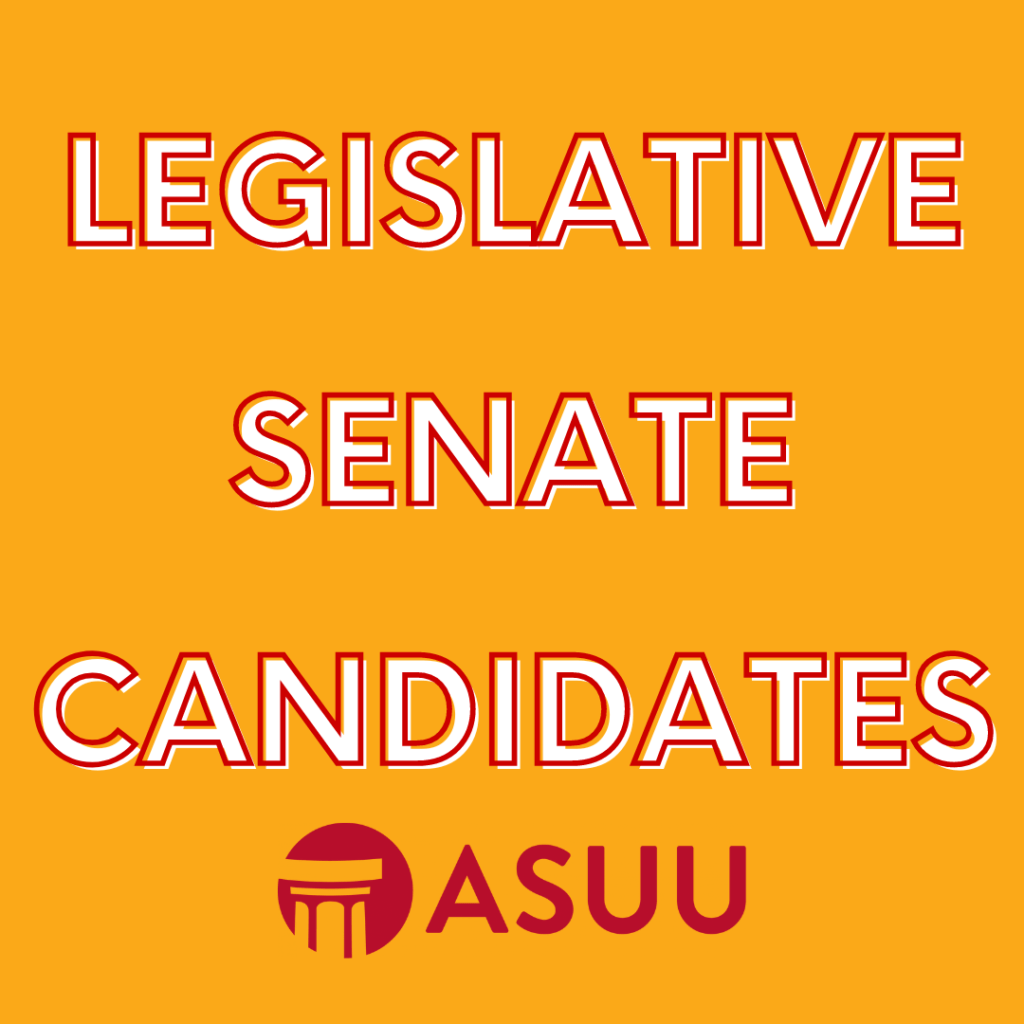 Andrea Garcia
Health
Andrea Garcia
Health
Hey everyone! I am Andrea Garcia, and I am running for the legislative in the College of Health. Almost anyone can run for a leadership position, but in my experience not everyone cares to do so. I am running because of the importance in giving the student population a voice. As a Kinesiology student, the College of Health means sharing our strengths to help and empower others in any shape or form. If I am elected, I will do everything I can to serve the student body to diversify, advocate for, and creating the best college experience possible for you.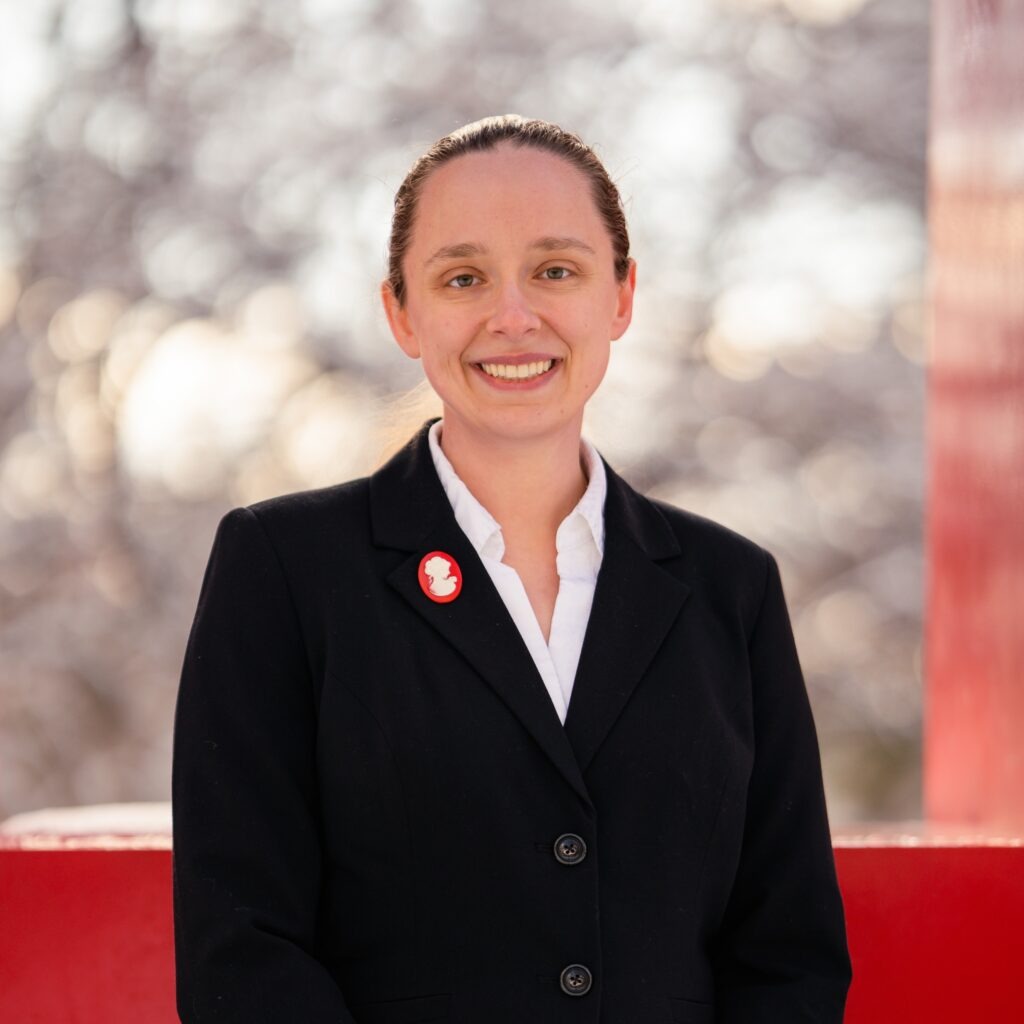 Sarah Lucas
Medicine
Sarah Lucas
Medicine
As a graduate student in the School of Medicine (SoM), I've pondered about what other students are part of this college. Initially, I thought most of the students must be medical students and that I was part of a small minority. Further investigation revealed that while the plurality of SoM's student population is medical students (42%), SoM student population also includes undergraduates (23%), graduate students (24%) and physician assistant students (11%). If I were elected to the position as senator, I would work to make sure ALL the voices from Upper Campus to Research Park to St. George is heard.
Dawson Bertuzzi
Social and Behavioral Science
Dawson Bertuzzi
Social and Behavioral Science
In elementary school, I once campaigned a school-wide petition for the principal to let us wear hats inside the classroom. As a Senate Representative, I am reigniting that drive to ensure that student voices go beyond being just heard. I care for this school and have a priority for equity, diversity, and inclusion; to affirm that all students feel valued and supported. A diverse student body has more value than a diversified investment portfolio. I hope with this we may avoid feelings of "overbearing professionalism" and encourage an environment that rebuilds social engagement.